Jewel De'Nyle - Pornstar, Director, Icon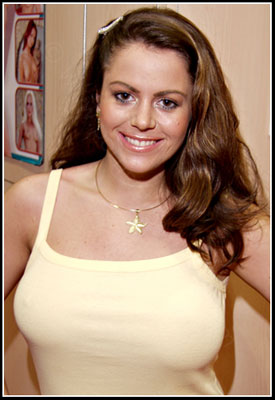 Jewel first appeared on the adult scene in 1998 if memory serves me correctly. I will admit to not paying her much attention at first. She was starring in movies for New Sensations and performed a lot with then boyfriend Peter North. While none of these are necessarily bad things I was in my mode of only paying attention to companies I had grown fond of so new companies and stars who worked for them were sort of S.O.L. as far as I was concerned.
I first meet Jewel in person at the 1999 Adult Entertainment Expo. She was promoting her upcoming film Electric Sex from New Sensations/Digital Sin. While she was incredibly beautiful I didn't immediately rush out to get her stuff. However, once I saw Electric Sex I quickly corrected that over site.
Jewel is known for many things. Her ability to carry such big features as Electric Sex and Dark Angels not being the least of them. However, she also has another legion of fans who enjoy her work in such gonzo classics as Iron Maidens and Ass Worship. Two classics which also showcased her penchant for interracial scenes as well. Jewel was also the first starlet to do her own "virtual sex" title for New Sensations entitled My Playmate - Jewel De'Nyle. Many consider this title groundbreaking in it's utilization of DVD technology and Jewel's performance as nothing short of award worthy as it displayed what this format could really do.
(For the record this was the first and only one utilizing the name "My Playmate" with all the others being called "My Plaything" for legal reasons.)
Jewel was also one of the first "contract" women for Jill Kelly Productions when they first started out. Her Sluts of the Nyle line was a lot harder edged than what people have come to expect from JKP and may explain their parting company. While her and JKP parted ways it was these movies as well as some for Puritan that gave us our first look at Jewel the director. A look that left us wanting more.
In 2003 Jewel started her own production company with partner Michael Stefano aptly named "Platinum X Pictures". Gone are the days of high budget/dramatic roles such as Dark Angels and here to stay are over the top gonzo performances. I got the chance to briefly sit down and talk to Jewel about her career and her new company while she was dancing at the "Blue Zebra Cabaret".
Tell me about Platinum X Pictures.
Jewel De'Nyle - Platinum X is unique in that all the directors will own their own product. We have Michael Stefano, Brandon Iron, Steve Holmes, Manuel Ferrara, Mason and myself. Steve and Manuel will be shooting in Europe while everyone else will usually shoot in the United States but I am going to be shooting a little bit in Brazil and Europe as well. Mason and I are also going to be working on some projects together as well. All of our movies will be day/date and you can find our release schedule on our web site (www.platinumxpictures.com). The lines I am going to be doing are Interracial Lust, Wild On Sex, Dirty Girlz, Sinful Asians and Spread'em Wide. I will be releasing one title a month from one of those lines. We are also currently sponsoring a contest for new talent in the industry at "PornstarIdol.net". You go there and fill out an application. We will pick 2 winners (1 male and 1 female). Each will be given a 6 picture deal and $2,500 each.
Condoms?
Jewel De'Nyle - I have never understood the condom issue. We are strictly a condom free company. I think it is lame for companies to say they are "condom only" but then shoot facial cum shots. What is the purpose of that?
Are you going to be going the route of a lot of other companies and hiring contract players?
Jewel De'Nyle - The only people under contract to us are the directors. I think the industry is moving away from the contract aspect and is all about the new girls right now. Any of the directors can have a girl under contract to them if they want to but I don't see it.
Why start your own company?
Jewel De'Nyle - This has always been a goal of mine since I first came into this business. I have always wanted to own my own product and to make the kinds of movies I want to make. Also people tend to take more pride in things they have a personal stake in.
You prefer extreme work but a lot of people point to that type of work as proof that porn degrades women. What is your take on this?
Jewel De'Nyle - I am a producer and a director. I do what I want to do. I push my own limits because that is what I like.
I read an old interview where you said you wanted to do a "Cleopatra" type gang bang. Have you done it yet? Are you going go do it?
Jewel De'Nyle - I haven't done that yet but I am planning on doing a gang bang with 8-10 guys from London while I am over there. I will be doing DP and anal in that scene but no double anal. I won't be doing a Cleopatra set-up since it would be too difficult to get all the stuff over there. That scene will show up in Wild On Sex #2 - London. It should be out sometime this fall.
What do you think of the "Cream Pie" movies?
Jewel De'Nyle - I don't like it. I did one cream pie movie and I just didn't like it at all.
You have said you don't like to act. So why are you cast in so many dramatic roles?
Jewel De'Nyle - I am probably one of the few established actresses in this industry that can handle a lot of dialogue. I came in this industry to fuck not act. I could probably have made it as an actress if I really wanted to but that is not what I wanted.
So what is left for you to do?
Jewel De'Nyle - Right now I am just concentrating on running my own company. I am still performing and out on the road dancing but I am slowing down on that as it is. But I am going to be doing this for a while yet.
What advice do you have for new girls coming into the industry?
Jewel De'Nyle - I hate hearing "I don't want to do that, yet." If you are going to do it then do it but don't think holding out is going to do you any good. If you don't want to do it then don't do it. It is not a good idea to do something like anal sex just for the pay. If you are doing it at home then do it in the movies but if not then don't do it.
I would like to thank Jewel for taking time out of her busy schedule to sit down with me and Steph at Adult DVD Talk for putting up with me. You can find Jewel's web site at Jewel De'Nyle.net. If you have any questions or comments about this article feel free to e-mail me at webmaster@pornstarportraits.com.
Bernard Pivot Questionnaire
What is your favorite word?
Jewel De'Nyle - Fuck
What is your least favorite word?
Jewel De'Nyle - Cunt
What sound do you love?
Jewel De'Nyle - moaning
What sound do you hate?
Jewel De'Nyle - The sound of a queef.
What profession would you like to attempt other than your own?
Jewel De'Nyle - Professional shopper for the stars.
What profession would you not like to participate in?
Jewel De'Nyle - Madam - I don't think I would like that at all.
What is your favorite curse word?
Jewel De'Nyle - Fuck again. It really is a good word.
If Heaven exists, what would you like to hear God say when you arrive at the Pearly Gates?
Jewel De'Nyle - I am a pagan. I don't believe in God.