Angela Summers - Las Vegas Beauty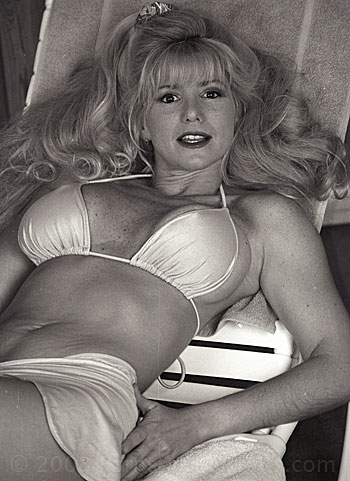 I went to my first adult convention in 1992. It is hard to believe that was over 10 years ago since I remember it like it was yesterday. At the time I didn't know who most of these people were. Angela happened to be one of the women at the first party I went to and she was the one I remember being the friendliest to us. She went out of her way to say hello to everyone and to make us feel comfortable even though she was going to be the one taking her clothes off and dancing for us.
Angela is probably what most people would refer to as your typical California beach bunny. Even if she has lived in Las Vegas since 1994. She first came to my attention during her collaborations with John Stagliano in a few of his "Buttman" titles and if memory serves me correctly she was the first American woman to go down to Brazil with him and the star of the first real film he shot under the Evil Angel banner.
I finally caught up with this lovely lady during one of her dance engagements in Los Angeles:
What have you been up to for the last few years?
Angela Summers - Mostly touring/dancing. A few conventions and working on my web site.
At AEE you were interviewing people. What was that about?
Angela Summers - I work for a few different web site's and I was doing interviews for them.
When was the last movie you did?
Angela Summers - Well at the time I didn't plan on it being my last movie but the last boy/girl thing I did was in 1993 in a movie I can't remember. In 1997 I did a masturbation scene in "All of Me" and in 1998 I did a girl/girl scene in "Car Wash Angels".
Do you plan on making any more movies?
Angela Summers - No, it was fun when I did it but it is time to move on.
Movies have become a lot more graphic today then they were when you came in. Would you come in the industry today?
Angela Summers - No, I liked it the old fashion way. Fuck and suck in different positions and getting each other off. :)
What is going on with you web site? www.angelasummers.com
Angela Summers - I now have it as a free site. I put photos up monthly. It is mostly so fans can e-mail me and see my tour dates.
How long do you plan of performing?
Angela Summers - I think it is time to hang up the g-string. But I am unsure how I will keep myself involved in the porn industry. I have loved it. :)
Interracial scenes are back in the news again. What do you think about people's choice to not do interracial scenes?
Angela Summers - Each person is allowed to chose if they want to have sex with any person or not. Or do anal, gang bangs, etc. It is an individuals choice and should be respected.
Do you think the adult industry has a responsibility to promote safe sex?
Angela Summers - Yes and they should be doing more to encourage it.
What do you have planned for 2003?
Angela Summers - I plan on taking some time off from touring. And am looking into either going back to school or working a regular job. Know anyone hiring in Las Vegas. :)
Angela Summers - Email me all jobs offers. :)
I would like to thank Angela for giving me the chance to sit down with her and Steph at Adult DVD Talk for putting up with all my questions.
Bernard Pivot Questionnaire
What is your favorite word?
Angela Summers - Nice
What is your least favorite word?
Angela Summers - Fuck
What turns you on?
Angela Summers - Nice people
What turns you off?
Angela Summers - Body odor
What sound do you love?
Angela Summers - waterfalls
What sound or noise do you hate?
Angela Summers - People complaining/bitching
What is your favorite curse word?
Angela Summers - Damn
What profession would you like to attempt other than your own?
Angela Summers - Party coordinator
What profession would you not like to participate in?
Angela Summers - Clean-up person in an Adult Stores peep/movie booths
If Heaven exists, what would you like to hear God say when you arrive at the Pearly Gates?
Angela Summers - You were a very nice person.