XXX Factor (Wicked Pictures)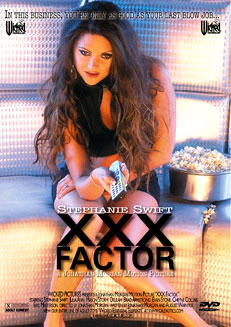 Cast: Stephanie Swift, Holly Morgan, Julia Ann, Mason Storm, Delilah, Evan Stone, Brad Armstrong, Eric Masterson, Cheyne Collins
Directed by: Jonathan Morgan
Release Date: January 29, 2004
It is about 2 o'clock in the afternoon when I arrive at the set for the latest Stephanie Swift project for Wicked Pictures. As is usually the case on sets someone is running late so I spend my time taking pictures of Stephanie in her little nurses outfit. Then I get an even bigger treat when the make-up artist (Shelby Stevens) comes out dressed as the other nurse. Unfortunately her clothes stay on the entire time but she still looks fantastic.
After about an hour it is decided to use Brad in the scene instead of our AWOL actor and the filming can begin.
The scene is a parody of an adult film set and Stephanie is definitely hamming it up. Though there was a little problem remembering which character she was "Candy Lane" and which character Shelby was "Candy Cane". If you are looking for what people think is your typical porn scene then this is it with a healthy dose of sarcasm thrown in. Though at one point you can tell it has been a long day for director Jonathan Morgan because when he is asked how he wants something done he says "At this point I am willing to take anything."
Fate can actually work in your favor sometimes such as when Stephanie kicked her clipboard off the bed during the sex scene, then yelled "Quite on the set" and just kept on fucking. I am fairly certain that was not in the script but it fit nicely with the whole set-up of the scene.
Once the sex scene was shot everyone broke for dinner and I got a chance to talk briefly with Stephanie about her latest project and what she has been up to.
By the time my little interview is over they are setting up for the next scene with Evan Stone and Holly Stevens. I manage to snap a few pictures of Holly before things get too busy but I must say there is something very disquiting about having a large poster of Evan Stone stare at you while you are trying to work.
It is shaping up to be a long night for Jonathan Morgan and company so I figure it is time for me to get out of their way so they can get some work done.
I would like to thank Daniel Metcalf, Jonathan Morgan and Stephanie Swift for having me on their set and Steph at Adult DVD Talk for just putting up with me.