Add A Little 'Spice' To Your Life (Spice TV)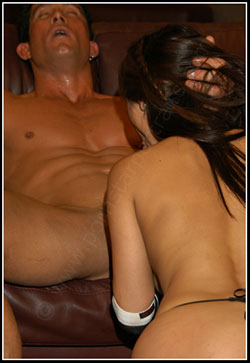 I am a little nervous as I pull up to the security fence for the studio for Spice TV's "Spice Clips" and "Spice Hotel". This is the first set I have been on that will be a live broadcast. I clear security and realize that I have arrived over 30 minutes before my call time. None of the actors or the director for tonights show have arrived yet so I am given a tour of the control booth and stage for the shows.
Let me tell you most adult companies would kill for the set up they have here. The entire show is shot using 3-4 High Definition remote controlled cameras. The two sets face each other so that all the crew has to do is flip the cameras around and they are ready to shoot the next show. Both shows are run by 4 people plus the director and that includes answering all the phone calls.
The star of tonights episode of Spice Clips is a new girl by the name of Karina Kay. She arrives about 30 minutes before show time and is very nervous. It seems that she was told she was on tomorrow nights broadcast and had to rush to get over here in time for the show. She has never done the show before so everyone starts briefing her on what is going to happen and what she is supposed to do. One of the PA's puts a tape in the VCR to show her what a previous show was like. As she watches the tape Karina says she is going to feel silly doing this but the staff assures her that she will be fine.
While all this is going on the director (Bud Lee) arrives to talk to Karina and then comes in to give me a brief run down on the show format.
Spice Clips features one woman taking calls from viewers and doing what they request with video clips from movies inserted as their version of a "commercial break". Spice Hotel features a couple doing thesame thing. Being new to Spice TV I was surprised to learn that both shows are shot hardcore with the only restriction being no anal. Tonights Spice Hotel also happens to be the first episode shot with out a condom at the performers request.
Spice Clips and Spice Hotel are shot in 30 minute blocks for an hour and a half each. They are broken up to accomadate the fact that Spice TV is sold as package deal for blocks of time. For $14.95 you get a few minutes to choose between the live broadcasts, 1 feature movie or 1 gonzo movie. That way someone doesn't have to miss out on an entire show if they buy a block 30 minutes into the broadcast. Bud says that if he has a choice he would rather have the stars go heavier on the talk and lighter on the clips as the live interaction with the stars is the selling point for both shows.
About 10 minutes before show time (7:30pm PST) I go into the control booth and Karina is escorted out onto the set. You can tell she is still nervous as she is given a choice of toys to use. I notice that the phone board is already lit up and they are putting people on hold before the show even starts. As the control booth starts the countdown Karina takes a deep breath and we are live.
For all her nervousness Karina gets into the scenes very quickly and from my perspective at least she is very good at this. She takes caller after caller and the control booth actually has to tell her that it is time to take her first break.
During the break Karina says she thinks she looks silly doing this but everyone assures her she is doinggreat. The fact that the phone board is full of anxious callers for the next 90 minutes waiting for their turn to talk to her is proof that it is not just them that think so.
Next up is Billy Glide with Naudia Styles in Spice Hotel. Think of this show like a live interactive DVD . Billy and Naudia will do what ever you tell them to do (except anal and cum shots) over the course of the 90 minute show. And this is REAL sex here people. I know this for two reasons:
1) Billy had to call for clips to be played on a couple of occasions because he was close to losing it.
2) Naudia can squirt sometimes when she cums and she did so on two seperate occasions during the show. At least once when they were not on the air.
Of the two I would say that the Spice Clips callers are a little more interactive then Spice Hotel callers. Once they tell Billy and Naudia what to do they tended to get very quite while the Spice Clips callers usually kept directing Karina for a while. Not that Billy and Naudia seemed to care as it just gave them more time to enjoy each other.
Though Spice Hotel definately gets more female callers who all want to see Billy please Naudia. One of the shows funnier moments came when Jazzmine from VA called to tell Billy to fuck Naudia doggie style. As Billy complied he asked Jazzmine how she was doing to which she replied "I'm Good". Billy answered back with a smile "So am I!"
I must say that I was pleasently surprised by my first exposure to Spice TV. The interaction and humor of the cast with the viewers was not something I was expecting. If Spice TV is available in your area then I highly recommend you tune in every Friday, Saturday and Sunday between 10:30pm and 3am EST and find out for yourself.
You can find Spice TV online at www.spicetv.com
You can find Naudia Styles at www.NadiaStyles.com (her actual site is not up yet but this is supposed to be the address).
You can find Billy Glide at www.BillyGlideXXX.com