Sleeping Around - The Slumber Party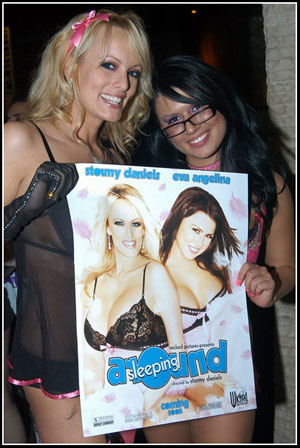 It is a little after 9 pm as I pull up to Mood in Hollywood for Stormy Daniel's Sleeping Around Slumber Party. Luckily the club has valet parking because I was wondering how I was going to walk through downtown Hollywood in my pajamas and slippers. Mike Moz (The Star Factory) is manning the door and I am let into a very nice club. At this point I must say I am feeling more than a little naked. I am in my pajama's in public and to top it off they have not allowed me to bring my camera which makes me totally out of my element.
It is early so there are not that many people here yet but I do find Heth (the Queen of Wicked PR) sitting with her husband. In short order the event photographer (Gordon) has her on the bed set up for the girls to pose on. Let me tell you Stormy and the other Wicked Girls have nothing on this woman.
It is 10 pm before our hostess arrives looking stunning. By that time Wicked Contract Stars Carmen Hart and Julia Ann, Kayla Synz, Lexi Lamour, Eva Angelina, Alektra Blue, Pat Myne and Mr. Pete, to name a few, have already been here for about a half hour and the party is in full swing. Eva particularly draws quite a crowd as she takes her turn on the couch. Though not to be outdone Carmen shows off her "Southern Hospitality" with equally spectacular results.
As Carmen leaves the bed the following words are exchanged:
Carmen - I know you. I do not remember from where but I know you.
Two questions.
Carmen - Okay
Didn't you have a purse when you went back there?
Carmen - Crap!
(Carmen runs back to the bed and returns shortly)
Carmen - THANK YOU! That could have been bad. Okay second question.
Do you actually wear that to bed?
Carmen - HELL NO. I am buck ass naked. But you can bet I will be wearing it when I get some ass this weekend.
Back at the bed the Rose Sisters (Ava and Mia) are making a spectacle of things so I have to jump in the middle just for the heck of it.
As I look around the club now I can pick out Trina Michaels, Olivia O'Lovely, Courtney Cummz, Sunny Lane, Franchezca Valentina and TJ Hart in various states of "undress". Julia Ann walks by and grabs my nipple but quickly runs away as I go to return the favor; which is totally unfair.
There is an opening in the crowd of guys surrounding Eva so I jump in to talk to her briefly about her role in Sleeping Around and what it is like working for Stormy Daniels. But as fate usually has it in these situations things do not go exactly as I planned.
How was it working for Stormy?
Eva - I love Stormy. Stormy and I are really good friends so it was just a pleasure to be involved in one of her movies that she had written and directed AND stared in and we are sisters in the movie so it was really cool to have that connection in the movie. So I can not complain.
How was it playing the "nice girl" this time?
Eva - Normally I am like the evil like seductress kind of person. So it was kind of nice being the virgin broken hearted girl that just wanted to be loved.
At this point Mark Stone joins in.
Mark Stone - Cocks over 10 ½ inches?
Eva - It depends. At home I prefer less because I want to be able to fuck you any time I want and not get sore.
Mark Stone - Wow. What is the perfect size cock.
Eva - I do not know. 9 ½ inches.
Mark Stone - You know what if you stretch mine and pull it you just may get that nine inches.
Mark Stone - Felching?
Eva - What is that?
Mark Stone - It is usually gay guys but it is when a guy cums in another guys ass and then sucks it out.
They sometimes use a straw.
Eva just gags at this point.
Eva - I think I just threw-up in my mouth.
Mark Stone - I just wanted to make sure you knew that.
Eva - Thank you for the educational moment.
Mark Stone - Are your boobs sensitive?
Eva - Not at the moment, no.
Mark Stone - Well they are killing me.
At this point I just walk away with a smile. As I go back into the smoking area I am greeted to the sight of Mia Rose stretched out on the couch with her ass in the air. It is a very beautiful site (CRAP! I do not have my camera). Monstar walks up, sits down beside her, and starts using her ass as a coaster (DAMN IT! Thoughts of strangling Mike spring into my mind).
I manage to corner "The Princess" (aka Stormy) as she is making her rounds:
Why did you rent McKenzie Lee for this movie?
Stormy - Because she is gorgeous and I wanted to touch her boobies.
Did you really threaten your crew with "No More Stormy Boobies" if they did not come here tonight?
Stormy - You bet I did. :)
You had a line in the movie in which you said "The hardest part about being a publicist is keeping the starlets from killing themselves" I was wondering if you were speaking from experience.
Stormy - That was a quote from Mike Moz. MY publicist.
On the Bloopers it looks like your crew is a little out of hand.
Stormy - They are not. I rule with an iron Boob.
I let Stormy get back to her party and I take another walk around the club.
Julia Ann is on the dance floor showing the "kids" how to get it done. Trina Michaels is acting like she is fucking Olivia O'Lovely doggie style as Monstar watches. I pause briefly at the landing as Ava Rose comes up and wraps her arms around me for a while. After a few moments she smiles and moves on. Someone is having a good time.
The Sleeping Around Slumber Party Gallery