Sex & Romance (Wicked Pictures)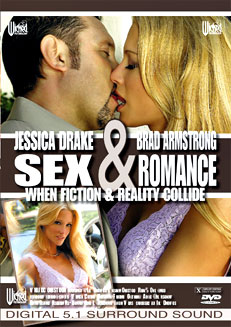 Cast: jessica drake, Victoria Givens, Paulina, Wendy Divine, Brad Armstrong, Evan Stone, Steven St.Croix, Eric Masterson, John West
Directed by: Jim Enright
Release Date: December 17, 2003
On set for Wicked Pictures "Sex and Romance" it is quickly approaching 100F outside and the A/C in the house is off due to it making too much noise on the audio track. jessica drake and Wendy Devine are rehearsing their dialogue scene in the living room (aka restaurant) while I check in with the production manager. She tells me I am in luck as they plan on shooting three sex scene's today. Two boy/girls (Wendy Devine/Eric Masterson and jessica drake/Brad Armstrong) and one girl/girl (Victoria Givens/Paulina).
From listening to the rehearsal I gather that jessica is a writer of romance novels and Wendy is playing her publisher or editor (I am not sure which). The director Jim Enright calls for a few more rehearsal's and then is ready to shoot the scene. Unlike some scenes I have been present for this one goes off without a hitch and they are ready to shoot the sex in no time. I wandered off during most of the sex to talk to Victoria Givens (more on that later) but I did come back in time to see the last 15 minutes or so of the sex scene. No I didn't shoot any pictures of the sex for you guys (that seems to be a trend for me) but I will try to throw myself into the fray next time and get some action shots just for you.
I will tell you that this scene truly rocked. Though I imagine the finished product will leave out the humor of watching jessica try to act like she doesn't notice the people having sex on the table she is sitting at or the following exchange between her and the director.
Jim Enright - Stop looking at them.
jessica drake - Threesomes are my favorite thing and I am not having sex right now.
After the sex scene is finished the crew breaks for lunch and I corner the movies star for a little discussion about this movie and life as a Wicked contract girl:
So this is your second Wicked contract movie right?
jessica drake - Yes, my first one was called "Suspicious Minds". It is a Lucille Ball type comedy in which I am certain my boyfriend is cheating on me so I enlist the aid of my two friends (Stormy and Sydnee Steele) in order to catch him in the act. Needless to say mayhem quickly ensues. Stormy wrote the script for me and I had sex with Brad, Sydnee and Cris Cannon in it. I think it is due for a mid-November release date.
Tell me about "Sex and Romance".
jessica drake - This one was written by Melissa Monet and I play a writer who doesn't know what she wants in her love life. Sex in her books becomes motivation for sex in real life "thus the line between truth and fiction becomes blurred". I had sex with Steven St.Croix yesterday and am supposed to have sex with Brad Armstrong later today.
What else is going on?
jessica drake - Well I was supposed to be at the AMNE show a little bit today to promote the release of my first two toys for the Wicked Essentials line from Cal Exotics but it doesn't look like I will get done here in time for that. After that I am doing a Wicked Sex Party movie which will be directed by Brad. I saw the other ones and really loved them so I asked if I could do one as well. Then I am off to New Zealand for a couple of weeks for the Exotica Convention and I want to dive the Great Barrier Reef while I am there as well. After I come back I have a dance engagement in Tampa, Florida and then I shoot another movie called "Highway" which will be directed by Michael Raven.
Sounds like you are as busy as always. Now that you have had a little time in the saddle as it were how do you like being a Wicked contract girl?
jessica drake - Oh my god it is so amazing. I mean did you see the banners of me at Erotica LA they stretched from the ceiling to the floor of the convention center. Plus the one page ad in AVN. Those pictures are so beautiful. And I couldn't ask to be treated any better.
What are these toys you have coming out?
jessica drake - Well there are only two at the moment. One is a vibrator and the other is a bunny vibrator. I am not sure when the rest of them are coming out though I have already done my moldings.
What is going on with your Playboy TV show?
jessica drake - Inside Adult is currently on hiatus. They aren't certain they are going to bring it back or not. Plus they are still discussing if they still want me to be the host if it does come back so we will just have to wait and see.
What is going on with your web site? www.jessicadrake.com
jessica drake - Well I am going to start auctioning off some stuff through estarbids.com for my site. I currently have plans to action off three movies. One will come with a corset I wore in it, one will come with the script and the other will come with a sex toy. All autographed/used by me.
Any plans on changing your site?
jessica drake - No, I love my site just the way it is. Some people say it is a little cheesy but I think it is a good reflection of my personality so for the most part it will be staying just the way it is.
Well you still need to eat lunch so thank you very much for your time.
After lunch is over everyone moves upstairs to shoot the girl/girl scene with Victoria and Paulina. A little bit later the director informs jessica that her scene with Brad won't be getting done today since they will lose the light in the kitchen before they are done upstairs. Now other people would be disappointed by this but I used this opportunity to ask jessica to come outside and pose for me. Yes there was begging involved but in the end I prevailed. Apparently she can not stand the site of a grown man crying.
While they are all setting up for the next scene I did run in to a lovely brunette named Paulina who has a great pair of legs and is very beautiful. Unfortunately she requested that only the set photographer shoot any pictures of her so you will just have to see her in the movie.
However the lovely Miss Victoria Givens did agree to sit down with me for a little bit and talk about her career so far:
Tell me about your role in Sex and Romance?
Victoria Givens - Well I am not sure exactly what you would call my role in this movie, fantasy girl I guess. I played a princess yesterday in my scene with Evan Stone and today I am playing an executive in my scene with Paulina.
Is this your first Wicked movie?
Victoria Givens - Yes, I have only done about 45 movies so far. I haven't done that many because I only recently moved here from North Carolina but now that I am out here I want to do a lot more.
What are you good at, as far as sex scenes go?
Victoria Givens - I do a really good anal scene and I also tend to squirt a lot during them.
What should people know about you?
Victoria Givens - Well I intend to be in this business for as long as my fans love me. I would love to direct and produce eventually as well and for bookings you need to go through perioustalent@aol.com. Also my web site is www.victoriagivens.com.
After several rolls of film and a dip in the pool I have pretty much worn out my welcome with the lovely miss drake so I decide I had better call it a day.
I would like to thank Daniel Metcalf at Wicked Pictures, Jim Enright, Shanna McCullough and jessica drake for inviting me to and putting up with me on their set. And Steph at Adult DVD Talk for making all of this possible.