Post Modern Love (Wicked Pictures)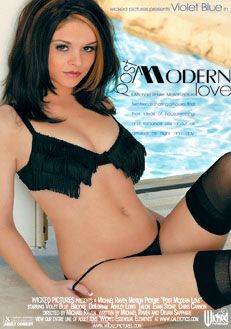 Cast: Violet Blue, Ashley Long, Brooke, DoLorian, Talon, Evan Stone, Chris Cannon
Directed by: Michael Raven
Release Date: March 24, 2004 (simultaneous VHS/DVD)
It is a little after noon as I make my way across the Pacific Coast Highway in my attempt to reach the latest Michael Raven project for Wicked Pictures entitled Post Modern Love.
As I arrived at the house they were just finishing up with a dialogue scene involving Violet Blue and they move on to shoot a short fantasy sequence with a few other women in non-sex roles. After that was supposed to be a boy-girl sex scene with Evan Stone and Ashley Long but unfortunately they were running ahead of schedule and Evan wasn't due on the set yet so they moved along to the girl-girl scene featuring Violet Blue and a new girl by the name of Brooke Adams.
For fans of Michael Raven's work you will probably find this movie a change of pace from what you would expect from the director of such dark drama's as Breathless, Heroin and Angel X. Post Modern Love is the story of a young innocent woman played by Violet Blue who moves in with a more free thinking man and the situations that come up because of it. While the movie is not a comedy it definitely has a lighter feel to it than some of Michael's most recent releases.
While the lighting and everything was being set up I did manage to get a few pictures of Violet as well as having her answer a few questions about herself and her latest role.
Violet Blue - Interview
After my interview with Violet Blue was over I stayed a little while to see how things were going. Due to the small nature of the bedroom they were shooting in (it barely held the bed) I had to stay out of the way. I did get to see Evan try to sneak across the living room like a ninja warrior trying not to make a sound.
I also managed to corner Ashley Long for a brief interview as well.
Unfortunately due to the small size of the location I was unable to get any pictures of Ashley on the set but I promise to make up for that the next time I am on a set with her.
I would like to thank Michael Raven for welcoming me to one of his sets yet again as well as Daniel Metcalf at Wicked Pictures and Steph at Adult DVD Talk for making all of this possible.