Latin Car Show Queens (Wicked Pictures)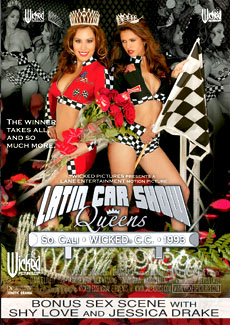 Cast: Shy Love, Lola, Olivia O'Lovely, Jennifer Luv, Yasmine Vega, Nick Manning, Tommy Gunn, Marcos Leon
Director: Devinn Lane
Written by: Devinn Lane
Release Date: December 9, 2004
Is winning really worth the price you have to pay for it? This is the dilemma Shy Love's character "Jasmine" has to face when she is forced to decide what she is willing to do in order to win a local car show bikini contest so she can make her college tuition.
I arrive on the set of Devinn Lane's feature directorial debut just as they are pulling all the cars into the studio to set up the "auto show" sequence. Things are running a little behind today due to the grip truck getting a flat tire. While the lighting and stage crew are trying to get everything set up Devinn is busy talking to the 20 some odd extras that she has rounded up to play the auto show patrons.
Nick Manning is busy going over some lines as the girls are in make-up. I mention to Devinn that I didn't know Nick was hispanic. She informs me that he isn't but she couldn't find a lot of hispanic male actors in the industry. She even had to advertise for extras at Erotica LA in order to fill up the auto show.
Once the crew is set and the extras briefed...
Devinn yells - Line-up Girls. Suck it in and stick it out.
Devinn puts a couple of girls at each vehicle and does a lot shots of people milling around the cars and the women. At one point she tells the girls to:
Devinn - Look at the camera like someone just walked up and started shooting you. You know like they really do at the show.
I wonder if she is talking about me. :)
All the women are getting plenty of attention from the extras but I can't help but notice that they have taken a particular interest in Olivia and her tattoos. She is happy to talk to them about each of them and she definitely has their undivided attention.
We then move on to the next shot which is of Shy walking into the auto show to see Nick flirting with Olivia and Jennifer. Something which won't require any acting on Nick's part as he has been flirting with Olivia most of the morning.
The shot requires Nick to walk away from the girls once Shy spots him. At one point Nick asks Devinn if when he walks off if the girls (Olivia and Jennifer) can come with him. To which Devinn has to inform him that they are in his scene tomorrow not today.
Next up is the staged bikini contest portion of today's shoot. The crowd of extras can be heard moaning aloud as Devinn has the girls repeatedly turn around and bend over in front of them (YEAH RIGHT! I am quite certain a few of them forgot to breath for a little bit during this rehearsal). At one point Devinn stops the rehearsals so she can demonstrate the way she wants them all to bow for the camera (which had better make it into the Behind the Scenes).
Devinn has to get back to work so I thank her for her time and wander back out onto the auto show set. As they start to do the next shot I hear a camera go off behind me and turn around to find Lola taking her top off for a member of the crew who wants to take her picture.
A big grin crosses my face as I ask her what she is doing.
Lola - Just having a little fun.
Yep just another day in porn valley.
I would like to thank Devinn Lane, Daniel Metcalf and Wicked Pictures for once again allowing me to intrude on one of their sets.