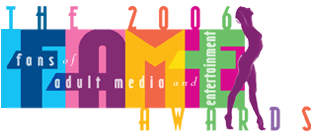 The first ever F.A.M.E. (Fans of Adult Media and Entertainment) Awards was held on Saturday June 24, 2006 at 9:00 pm on the "X Stage" at Erotica LA. To quote several people "the AVN Awards are about the industry, XRCO is about the critics and FAME is going to be about the fans". You can learn more about how the awards were set up and the companies behind them on their web site: F.A.M.E. Awards.
The voting started with 11 set categories and a 12th wild card category that the fans would select during the voting in Round 1 (March 23, 2006 - May 1, 2006) and then the nominations and finalists in Rounds 2 (May 2, 2006 - June 20, 2006) and 3 (June 24, 2006). I will be interested to see if there is a random category next year or if the one chosen this year will carry forward.
To be honest I was interested to see how the winners would pan out. If I have learned anything from watching other web sites try to do awards each year is that you can never predict how the voting will turn out. For these types of events it is not about who is the most "popular" it is about who has the most dedicated fan base.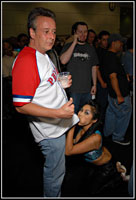 Bob LevyThe opening comedian was none other than the "Reverend" Bob Levy. Whom you may know from the Howard Stern Show and Miserable Men on Sirius Satellite Radio. Prior to the show he could be found walking around the convention floor taking in the sights or in this case being "taken in" by Mika Tan. He did not seem to mind though.
Hosting duties were handled by Adam and Eve contract star Carmen Luvana and AVN's Best Male Newcomer of 2005 Tommy Gunn. After taking the stage they quickly got the event underway by calling Tera Patrick and Evan Seinfield to the podium to present the awards for "Favorite Oral Starlet" and "Favorite Butt". Carmen was busy backstage and so did not hear her name called as the winner of the "Oral Starlet" so she provided the only delay in the evenings well oiled machine. However, her "I love to suck cock" thank you speech made up for it. Next Evan presented the award for "Favorite Butt" to a very surprised Jenna Haze. With the likes of Belladonna, Katja Kassin and Teagan Presley on the list I do not think she expected to win. However she again gave a brief thank you to the fans and noted that "I definitely have the SMALLEST ass on that list."
Digital Playground's Jesse Jane and Teagan Presley presented the awards for "Favorite Director" and "Favorite Breasts". Jules Jordan accepted yet another win as one of the industries premier Gonzo directors. Then Stormy Daniels followed him in order to thank her plastic surgeon for her win in the "Favorite Breasts" category.
Next up was Lezley Zen (Am I the only one who thinks this woman should have at least been on the nominations list for "Hottest Body"?) and Gina Lynn to present Ron Jeremy with the award for "Favorite Adult Actor". Even up against the likes of Erik Everhard, Rocco Siffredi and Lexington Steele I do not think anyone was surprised to find out yet again that the "Hedgehog" is still a fan favorite.
Fan Favorite and Industry Icon Jenna Jameson got to take the stage three times over the course of the event. Once as a presenter and twice to accept her awards for "Favorite Adult Actress" and "Hottest Body". She even made a comment about the fact that she won the "Hottest Body" award at the age of 32. Who knows now that she has won this award maybe companies will realize you do not have to be 18 in order to be considered "hot". Yeah right!

Tricia Devereaux accepted the trophy for "Favorite Gonzo Movie" for Belladonna: No Warning. Bella could not be there this evening as she was out of town dancing. Taking into account that this was an all girl movie it was something of a surprise to me that she was able to beat out the likes of "Anal Princess Diaries" and "Weapons of Ass Destruction 4" to win the hearts and minds of the fans out there. This just goes to show that Belladonna does not just do great girl-girl movies. She does great movies. And now that she has entered the Boy-Girl realm with "Cock Happy" and the soon to be released "Manhandled" just you wait.
The "Favorite Feature Movie" award went yet again to the Adam and Eve / Digital Playground epic Pirates. Which proves that when you put the likes of Carmen Luvana, Jesse Jane, Teagan Presley and Janine in a movie, even a feature, the rain coaters will notice.
Another surprise win of the evening for me was Taylor Rain in the category of "Favorite Anal Starlet". While her skill in this area are not in doubt I just thought her a long shot when stacked up against the likes of Katsumi, Taryn Thomas, Tiffany Mynx and Teagan Presley. Unfortunately Taylor was not present to accept her award.
The last two awards were probably the most difficult to predict. You can never guess how the "Rookie of the Year" will go and in a list that included Julia Bond, Jenna Presley, McKenzie Lee and Taryn Thomas it really was anyone's ball game. In the end it was a tie between Alektra Blue and Brandy Talore. Alektra was the only one present to accept her award and in her speech she made it a point to thank "all my friends on MySpace for winning me this award".
Last up was the fan chosen "wild card" category of "The Perfect Slut...Dirtiest girl in porn". Now if you thought the "Rookie" category was hard to predict try figuring out who the fans would consider the "Perfect Slut" from a list that included the likes of Ariana Jollee, Audrey Hollander, Hillary Scott, Jasmine Bryne and Melissa Lauren. In the end it was Taryn Thomas who won the fans hearts. Taryn was just thrilled to, as she put it, "finally win an award I got to go up on stage and accept". I wonder if anyone else will notice that one of only two women on the list who has never done Double Anal won the award.
All in all this was an extremely well done event. I can only wait to see if they can top it come next year while still resisting the temptation to make more and more categories.