Corruption Release Party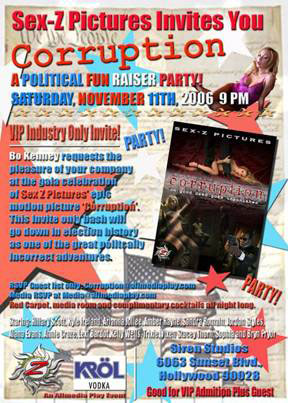 Exactly how do you celebrate the release of what people are calling one of the best and most controversial movie of the year?
If you are Sex Z Pictures and All Media Play you provide 3 open bars, a D.J. and a large smoking area all in a clothing optional industry only environment. Add in Industry Legends Nina Hartley, Kylie Ireland, Alana Evans, Ginger Lynn, Lynn LeMay and Steven St.Croix mixing and dancing with the likes of Hillary Scott, Jasmine Byrne, Trina Michaels, Adrianna Nicole, Georgia Peach, Sasha Grey and Mia Rose and you really can not go wrong.
By the time the party officially opened at 9pm there was almost 20 press photographers and 2 video crews lining the red carpet. Kari Croft from Gold Star models started the evening off right by showing up on the red carpet almost naked and by the time I finished covering the entrance she had graduated to fully naked up on one of the go-go platforms in the parties main room.
For the next few hours the red carpet was full of one beautiful starlet after the other as they all made they way inside. On more then a few occasions All Media Play's Press wrangler had to tell us to move them along as the line threatened to back-up out into the street. By the time the red carpet closed we had seen well over 100 beautiful women cross in front of the Corruption banner and they were still arriving.
Free to wander the party I found Monstar holding court in the smoking area with the lovely Eva Angelina. In typical Monstar fashion one beautiful woman was not enough for him as he also had Kiara trying to get his attention as well.
As I entered the Siren Studio's for the first time Alexia Milano started the party off just right for me by showing me the benefits of this being a private industry only affair. Alexia Milano
Of course not to be out done Kiara has to join in and I am a very happy man indeed. Alexia and Kiara
There were several go-go dancer platforms set up around the perimeter of the dance floor in the studio and several of the young ladies took turns entertaining the crowd or just having a good time as the night progressed. Of course unlike you typical go-go dancers clothing was not the norm here:
Lyla Lei
Girls Just Having Fun 1
Girls Just Having Fun 2
AVN Photographer and retired starlet Gia Jordan was also on hand to document the festivities but I could not resist getting this beautiful young woman back in front of the camera for at least a few more pictures:
All Media Play had set up a Press Room / VIP Area in the back for us to use but as is usually the case it quickly turned into a free for all with some minor periods of calm thrown in. But then again what do you expect when Nina Hartley, Trina Michaels, Adrianna Nicole and Hillary Scott are all in the same room with 10-15 photographers.
Jeff Mullins and Sex Z Pictures did take a moment of everyone's time to talk to about why we are here tonight and thank Bo Kenny, Kylie Ireland, Hillary Scott, Alana Evans and Eli Cross for the fine work they did in Corruption . And also to embarrass Hillary Scott by telling everyone that she deserved a Best Actress Award for her performance. While Hillary may be a little shy about admitting it there was not anyone in the room that disagreed with the assessment that her performance was indeed award worthy.
With the release of Corruption and the Corruption Bash behind them and the Adult Entertainment Expo/AVN Awards in front of them. One can only wonder what Sex Z Pictures and All Media Play will come up with Next