Camp Cuddly Pines Powertool Massacre
(Wicked Pictures)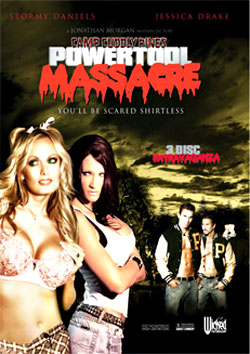 It is May 2, 2005 and I have just finished interviewing Keri Sable and am headed up to the shooting location for the new Jonathan Morgan Wicked Pictures epic Camp Cuddly Pines Power Tool Massacre. As per usual Los Angeles traffic is not co-operating so I am running late by the time I stop by a store to get a jacket (It is COLD in the California mountains at night) and find the set. I arrive too late to see the Kelli Tyler scene that will never make it into the movie but I do get to see Kelli come out of the woods covered in fake blood. As is also my luck I get there just in time for the dinner break so I spend a while just standing around while everyone tries to relax for what is going to be a VERY long night.
Once dinner is over I do manage to spend a little time talking to Stormy before we all move out to the cabin location to shoot some non-sex scenes for the movie. By the time we get to the cabin, night has already fallen and the temperature along with it.
First up is Mike Horner in the cabin calling the sheriff.
Jonathan to Mike - I want it so that I go "Goddamn that is a creepy muther-fucker".
It takes a few times through before Jonathan is happy with the lighting, smoke and dialogue but in reality we actually got through that segment fairly quickly to which the crew responds:
Crew - We will be out of here by 10pm
Jonathan - You are fucking HIGH!
Next is the scene in which jessica and Stormy are wandering through the woods. jessica has a real flash light but Stormy only has a little pin light. Jonathan shows them the trail they are supposed to be going down in the dark (and it is very dark at this point).
Jonathan - You are going to come down this trail.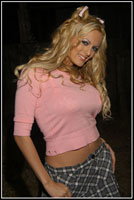 Stormy - Do you see what I am wearing?
Crew - I see... (minimal drool evident)
jessica using her light to show Stormy the trail - Can you see it?
Stormy - I am going to smear you with pigs blood and leave you for the coyotes :)
jessica - Not until after shooting
Stormy - You are not established yet. You can be replaced.
Once they have figured out how the girls are going to come down the trail they light off the smoke machine to create the spooky "fog" and try to start filming. Unfortunately tonight is a prime example of why shooting outside is so difficult. Every time they get the smoke machine in one location the wind shifts so it blows the smoke the wrong way. Finally one of the tech guys takes charge and Jonathan gets the right effect from the smoke to start filming
jessica (coming done the trail through the smoke) - I can not see anything.
Francois - If you fall you made a mistake. :)
Stormy - Out of my light whore! :)
Between the smoke, the lighting, the dialogue and the girls almost taking a header down the hill a few times it takes a while before Jonathan has everything right but eventually it is done and they start moving everything around for the next set-up. I use this time to take a few pictures of Stormy and jessica in their costumes. I feel bad about asking Stormy to pose for me in this weather. I am cold in a jacket, jeans and gloves and here I am asking her to look sexy in a mini-skirt and tight (small) top. But as usual Stormy is a little trooper who still comes off looking great.
Then I take a few pictures of jessica and talk to her briefly about the wig she has to wear for this movie.
Why the wig?
jessica - The role called for a brunette and my stylist told me if I tried to color my hair again I would not have any left.
Jonathan - That is the problem with contract girls these days. Unwilling to give their all for a project. :)
jessica - I have no problem giving my all. Just not all my HAIR. :)
At this point I can tell it is going to be a long night for everyone involved so I get out of their way. Hopefully they will finish at a reasonable hour. Apparently for a Jonathan Morgan movie of this type anytime before sun rise is considered "reasonable". I for one can not wait to see the finished product.
DVD Information -
Cast - Stormy Daniels, jessica drake, Keri Sable, Devon Michaels, Nicole Sheridan, Rita Faltoyano, Rebecca Love, Taryn Thomas, Katja Kassin, Kinzie Kenner, Cherokee, Katie Morgan, Randy Spears, Tommy Gunn, Eric Masterson, Voodoo, Manuel Ferrara, Scott Nails and Kris Slater.
Synopsis - Camp Cuddly Pines Power Tool Massacre is the story of Kirsten and Megan (Stormy and jessica drake), two college students headed to a concert with a group of friends, when along the way the gang accidentally runs over a homeless drifter in the road, or was it a moose or a deer?
As the gang soon finds out, nope, it wasnt a deer, it definitely was a homeless dude and soon they begin dying one by one
Release Date - September 16, 2005