Beautiful/Nasty Too (Wicked Pictures)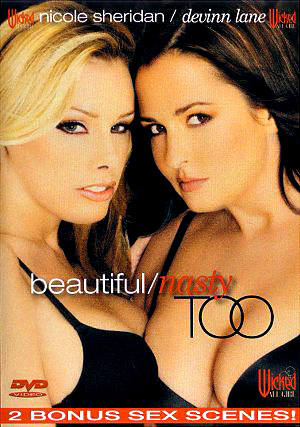 Cast: Devinn Lane, Nicole Sheridan, Aria, Kristal Summers, Lola, Taylor St. Claire, Becca Bratt, Jasmine Lynn, Lonnie, Kelle Marie
Directed by: Mark Stone
Release Date: July 14th, 2004 (simultaneous VHS/DVD)
It is 6pm on a Saturday afternoon and I am in Los Angeles to watch Devinn Lane do a scene for her new all-girl movie "Beautiful/Nasty Too" starring her self and Nicole Sheridan.
Some of you may remember the first installment of this series which featured Devinn paired with fellow Wicked contract woman Julia Ann.
As I arrived everyone was still setting up so I asked Devinn what she had done to prepare in making this movie.
Devinn - Believe it or not I have been lurking in forums like Adult DVD Talk to find out what people want in their girl-girl movies. Then I gathered together a group of women who really like to be with other women and took it from there.
What follows next is kind of hard to describe in words so I am just going to break it down into the brief notes and quotes I took during the one scene they shot. The one scene that just happened to be Devinn, Nicole, Lola, Kristal Summers and Aria in what can only be described as a free for all of biting, hair pulling orgasms.
Nicole Sheridan - I am Naughty Nikki and I like to be bad.
Nicole takes charge of Aria and pins her to the floor.
Devinn to Aria - Are you ready to tap out?
Aria - No I am happy right here.
Lola and Kristal take a break from each other to watch Nicole and Aria going at it before all the women team up on Aria.
Apparently it is a dream of Aria's to wake-up and only see beautiful women.
Aria loves to have her neck bit and can't speak to the camera while having her pussy licked.
Aria - There is something really hot about not being able to see anything.
Lola to Aria about squirting on her - I don't want it trickling on my head. I want it on my face!.
Aria - I love dirty girls. (And it shows)
Mark Stone (Director) at the third break to let the women catch their breath - "Once again it was all hard. (Editor's Note: they shot no soft core the entire time.) I don't know what I am going to do with the rest of my footage from this movie since this scene will take up all of the running time at the rate you are going."
To which my response was to include the entire uncut footage of the scene as a DVD extra. Something I pray they will do.
A lot of people say you get a little jaded covering porn sets. The whole "oh look they are having sex again" feelings start to set in. Then every once in a while you stroll onto a set like this one in which your jaw just drops and you go "Holy cow! Now this is what porn is all about."
Or as Lola put it a few days later when I saw her at a party...
Lola - You were there when I got squirted on! Wasn't that fucking awesome!