Barely 18 #19 (Sin City Teen)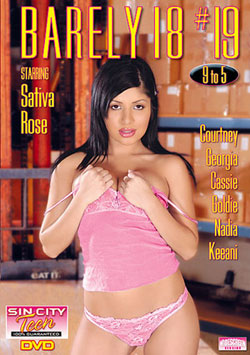 It is April 30, 2005 and I am on the set of Sin City Teen's Barely 18 #19. Now anyone who has ever been on an adult set will tell you that it is not unusual for one or two cast members to not show up. Overbooking, over sleeping, forgetting and "I just do not feel like working today" are not uncommon reasons for this to happen. Today it is a little different in that when I arrive on set only one female cast member has shown up (Sativa Rose) and as fate would have it she was supposed to have been in the last scene shot today so her male partner is not on set yet.
The Production Manager and Director are now trying to track down some more women who are available to work today. In and of itself this would not normally be a hard task. Call one of the several modeling agencies that cover the adult industry at any time and you can usually get a list of women who are able to work at a moments notice. Except that this movie requires the cast members to be, as the title says, "barely 18". By definition this means that they are fairly new to the industry and as such in very high demand. So needless to say replacing a whole cast of women with those restrictions on very short notice is something of a challenge.
Before long they have managed to get Cassie Courtland and Courtney Simpson on set and we are getting the lighting set and starting to work on the stills. Since they are already running hours behind I do my best to just stay out of the way. Shooting pictures over the set still photographer's shoulder and leaving the women to try to get ready for work as quickly as possible. They decide that since they are already running late they are going to shoot two scenes at once. I stick with the Sativa Rose, Courtney Simpson and Dick Nasty scene as I was already with that group.
Courtney and Sativa are a perfect choices for this type of movie. Courtney is an ex-cheerleader who will probably look 18 when she is 30 and she puts a lot of energy into her scenes. Not to mention she is flexible as hell. Sativa's talents are already well documented. Unfortunately I have to leave for my next appointment before they really get going on the scene. However, if the cast I have met already today is any indication then this is definitely a movie to keep your eye out for.
Movie Synopsis -
We love 'em young, barely legal and butt-naked! Seven teen twatties are about to get jammed, stuffed, fucked and packed full of rock hard cock for our cameras. Our horny guys are turned loose on these baby faced little cock sluts, tearing off their soaking wet panties and violating their tight little holes with massive hard cocks like there's no tomorrow! Then, our nubile nymphos get completely plastered with load after load of steaming hot cum, which they eagerly lap up like ice cream sundaes. You're going to love it! -- Christian Knight
Cast - Cassie Courtland, Goldie Coxx, Keeani Lei, Sativa Rose, Courtney Simpson, Nadia Styles, Georgia X, Bad Bob, Seth Dickens, Kris Knight, Rick Masters, Dick Nasty, Sean Silver
Director - Christian Knight
Release Date - July 06, 2005