AVN Adult Entertainment Expo - January 2004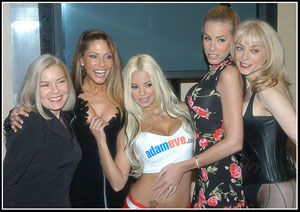 It is January and I am back in Las Vegas for the annual Adult Industry Convention now referred to as the "Adult Entertainment Expo". As has become our custom those of us that are at the show from Adult DVD Talk meet for breakfast the morning of the first day of the show. This is a nice quite time for us to get together and catch up on what has been going on with each other for the last year. This is one of the few times most of us have to just sit and talk with each other over the next few days.

Before to long several of us have to go get ready for the start of the show. I walk over to the entrance tothe show and find that there is a line backed out the doors of people trying to pick up their badges. Apparently most people didn't get theirs mailed to them this year. I wander down to the press room where the line is considerably shorter and pick up my badge and then go back up to wait for the show floor to open and the mayhem to commence.

Why "mayhem" well the final tally supposedly put the "fan" attendance at 16,000 people over the next 4 days. Personally I think that number is a little low and I wouldn't be surprised if that number only included the fan only tickets and didn't include the industry people that were there during the business hours of the show. As everyone who was there can attest there was almost no time that could be considered slow from opening to closing. Which for those of us working the show translated into no time to do anything even remotely organized.

One of my first stops at this years show was the Adam & Eve booth to make sure my interviews with Carmen and Nicole were still on during the show. This year Adam & Eve also played host to Wankus and the other p-jays from KSEX Radio.com which broadcast their shows from the convention room floor. They also played chapel for Taylor Rain when she got married at the convention on Saturday. An event which KSEX also broadcast live. While Adam & Eve may be considered one of the more "adult" adult video companies that doesn't mean there women were not fun to be around. Carmen is all about making her fans happy and Alexandra and Nina were there to show the newbies what it is like to be truly beloved by your fans. Nicole had her own way of saying hello to the lovely Sunny Leone and Terri Summers promised to "be nicer to me" next time.

Adam & Eve: Carmen Luvana, Nicole Sheridan, Nina Hartley, Alexandra Silk, Sunny Leone, Terri Summers, Kitten and Catalina Cruz

Next on my rove through the show I came upon the booth for Anabolic and Diabolic Video. Unlike a lot of companies that tend to bring the more established stars Anabolic is known for bringing the newer girls that are just starting to appear in movies. Or whose movies are not even out yet. This year they really out did themselves with the likes of Ariana Jollee, Luci Thai, Teagan, Audry Fire, Candace, Victoria Sin, Jennifer Luv, Lena Juliett and Scarlet Whora. Ariana is an ADT favorite who is known for her "nothing is out of bounds" approach to porn. Though the most buzz this year centered around Teagan who is as young as she is cute. Her presence at Anabolic's booth sent the rain coat crowd into a frenzy of wet dreams thinking about what acts this extremely cute "girl next door" has done that are not yet out on DVD. Only time will tell if she lives up to it. However, you should not count out any of these other beautiful women. All of them were drop dead gorgeous and apparently do the nasty with reckless abandon.

Anabolic Video: Ariana Jollee, Luci Thai, Teagan, Audry Hollander, Candace, Victoria Sin, Jennifer Luv, Lena Juliett and Scarlet Whora

One of the good things about shows like the A.E.E. is that it gives you the chance to meet people that don't make it to your area very often. A good example of this is Digital Playground's contract stars Devon and Jesse Jane.

Devon was there promoting her latest feature entitled "No Limits" which was nominated for Best Video Feature and Best DVD and which featured Jesse Jane in what I believe was her first on camera girl-girl scene. Jesse Jane was there to promote all of her 2003 releases but especially her "Virtual Sex with Jesse Jane" (nominated for Best Interactive Sex Title), "Beat the Devil" (nominated for Best Sex Comedy) and "Jesse Jane:Erotique" (nominated for Best Vignette Tape). As well as to give us a taste of her latest action epic "Loaded". Jesse herself was also nominated for Best New Starlet and Best Tease Performance (Erotique). I would also be remiss if I didn't point out that "Erotique" featured Jesse with Belladonna.

Jesse Jane is a trademark of Digital Playground Inc., all rights are reserved worldwide.

Well after all of the "business" stops I felt I was in need of a little fun so I swung by the booth of another group of ADT favorites ...DVSX. DVSX was one of the few success stories of 2003 and one of the even fewer success stories of a fledgling adult video company. The brain child of Alex and Constance this company is certainly one to watch in the coming year. Though it will be hard for them to top their 11 AVN nominations for 2003 I am sure if anyone can do it they can. They were represented at the show by Katie Morgan, Nyomi Marcela and Reina Leone. There booth also featured a stripper pole in the middle which offered more than a few chances for the girls at the booth (or some just walking by) to show us their moves. As was the case when lovely newcomer Gia Jordan joined Reina up there for a little while. However, we could not persuade Constance to give us a demonstration on how it was done no matter how hard we tried. Oh well, maybe next year.

DVSX: Katie Morgan, Nyomi Marcela and Reina Leone

Next up I wandered over and said hello to Tricia Devereaux and David Crawford from Evil Angel's DVD Department. This was a banner year for Tricia as "Fashionista's" won yet more awards this year when it took home the coveted "Best DVD of the Year" title. Which was no mean feat considering the calibur of the DVD's released in the past year and the fact that Fashionista's had actually been released on VHS the previous year when it won the majority of awards as well. In my mind that just went on to further prove not only the originality and impact John Stagliano's movie had but the job that Tricia Devereaux did in putting the DVD together so that even with a year to top what John and Tricia had done they still came out on top. With David now joining her at Evil Angel we can only expect things to get even better in 2004. I am not sure how they are going to accomplish that but I am sure those two will find a way.

Evil Angel Productions was represented by their usual array of women with great asses. Most notably this year with the return of Tiffany Mynx for Jules Jordan in "Once You Go Black You Never Go Back 2". Tiffany oh how I missed you. :) This, of course, prompted the still ongoing debate of which of the Evil Angel women had the best ass. A subject I won't go near. Espcially considering she was in the same booth as the ever beautiful Belladonna who was promoting her directorial debut for Evil Angel called "Evil Pink".

For those of you who haven't checked this one out all I can say is WOW!

It was overheard at the show that the lovely Dana Vespoli and Katja Kassin were a little shy during their appearances at the Evil Angel booth. This wasn't something I had noted but when you put just about anyone next to the likes of Tiffany, Belladonna and Cris Taliana they are going to come off looking a little more reserved since compared to those three we all seem like Puritan's out in the big city for the first time.

Evil Angel: Belladonna, Tiffany Mynx, Cris Taliana, Katja Kassin and Dana Vespoli

I just finished shooting some more pictures at the Anabolic booth when a guy walked up to me and said hello and asked if I had swung by to see Selena yet. In one of my more brillant moves I went "Who?" before it finally sunk into my already overloaded brain that I was talking to Selena Silver's husband Kent. A fact that wouldn't have been so embarrassing had I not done a shoot with Selena not that long ago. After getting over my bout of "can I be any dumber" (the answer is yes by the way), I set out to find the Evolution Erotica booth where Selena was at.

For those of you who don't know Evolution Erotica is the new company founded by Porn vetern and one outstanding director Tom Byron. They made quite a splash in 2003 with the release of such ground breaking work as "Meat Pushin in the Seat Cushin", "Sodomy Sandwiches" and "Sex, Drugs and Rock & Roll". Not to mention their unique approach to packageing and the use of dual discs in their releases. They started off small this year but brought in lots of top rate talent for the fans to meet such as Felicia Fox, Katrina Kraven, Selena Silver and Vicky Vette. Plus the return of one of my long time favorites "anal queen" Jessica Darlin as well as Lizzy Borden who is an outstanding director in her own right.

Evolution Erotica: Selena Silver, Felicia Fox, Jessica Darlin, Katrina Kraven and Vicky Vette

By now the show was in full swing and I was due to check in with Daniel at the Wicked Pictures booth in order to see what was going on for them at this years show. Wicked had their entire roster of contract women at the show and as usual they were the center of attention. Especially considering that both Stormy and Kaylani were nominated in the "Best New Starlet" catagory at this years awards show. As a matter of fact this turned into a banner year for Wicked when it came to nominations with Brad, Jonathan and Michael receiving "Best Director - Video" nominations (Michael Raven ended up winning for "Beautiful"). Julia Ann, Devinn, Sydnee, Stormy and Kaylani all got nominated for "Best Actress - Video" (Julia Ann won for "Beautiful") and jessica, Devinn, Sydnee and Stormy were all nominated for "Best Supporting Actress - Video" as well. And all that was on top of the nominations they recieved in all the other catagories. All of which just goes to show that to be a "Wicked Women" you have to a lot more than just another pretty face.

Wicked Pictures: Devinn Lane, jessica drake, Julia Ann, Kaylani Lei, Stephanie Swift, Stormy and Sydnee Steele

After setting up a few interviews for later in the show and shooting over 1 GB of digital images I decided it was time to take my leave of the show and get ready for tonights annual ADT Party. This year Steph and Drew had pulled out all the stops and it was shaping up to be a party to remember. Unfortunately the live "web cam" broadcast didn't work out as well as we had hoped due to low lighting problems but that is not to say everyone didn't have a great time. Some people had a little too good of a time which will probably result in next years party being a little more "exclusive" than previous years have been. But at least this year I wasn't stuck behind the bar all night and did manage to get a few shots of the festivities. :) I tried to get shots of Katja and Julie in an ADT shirt and managed to do so with Julie but Katja said she didn't want to take her top off in the middle of the party. I didn't have the heart to tell her that just because Julie had done so didn't mean that was what I was asking her to do as well.

Well it is day two and the show is not off to a good start. When I tried to download my photos from yesterday off my 1GB card the computer jammed up and now it is saying there are no pictures on the card. A fact that I torture just about everyone with that I see through the course of the day. Man I was PISSED! and in hindsight probably very annoying as well. Luckily when I got home a few days later I was able to download a recovery program that safely restored all of my lost images. So I punished all those people for nothing. Well today is my day to catch up on the parts of the show I never got to yesterday as well as do a couple of interviews as well. Though I will have to say I didn't complete nearly as many interviews as I had planned for the show which was probably a good thing as it will take me the better part of the coming year (if not all of it) to get them up any way.

My first stop today was to swing by the Digital Sin/New Sensations booth to see Calli about an interview and to check on an invite to their party tonight. Calli has really topped herself this year since she managed to get not only Jamie Brooks but Serena South as well to promote the Shane's World line. Not to mention the fact that Calli is always there herself. Man I wish I was young again. And not to be outdone by Calli New Sensations has brought along smokin' asian new cummer Sabrine Maui, the beautiful Jassie and the relative unknown Aspen Stevens. Not to mention having Misty Rain and Sue Diamond there to promote Misty's own line of movies. Each one of these beautiful women was a reason enough not to leave that booth but some of us have work to do so off I go.

New Sensations: Jassie, Sabrine Maui, Aspen Stevens, Misty Rain, Sue Diamond and Biggz

Shane's World: Calli Cox, Serena South, Jamie Brooks and Christie Lee

The rest of my second day on the floor is filled with catching up on all the pictures I thought I had lost and setting up a few interviews for the following day. As well as checking out all the booths that had escaped my notice the day before. The thing about shows as large as the Adult Entertainment Expo is that it is very easy to get distracted by all of the large flashy companies and miss the smaller ones that hold some very big surprises for you. In this case there was the likes of Kelli Tyler, Shane, Ginger Lynn and April all signing at booths that didn't belong to one of the major companies. So when you go to the A.E.E. next year be sure to spend a little time and check out all the booths. You never know what or who you may run into.

My second night in Vegas was just as busy as the first. This time it was for the New Sensations / Shane's World Party which was definately the "place to be" that night. As evidenced by the likes of Hannah Harper and several of the LA Direct Models standing in the same line as me waiting to get in. Even an hour before the party was set to start there was a stretching across the casino floor of eager fans and porn stars alike wanting to "get the party started". I spent a few hours mingleing with the "beautiful people" and snapping a few candid shots where I could. I had to go out on several occasions just in order to find a place to breath in the packed club but that was usually where I found the likes of Mr. Marcus out in a less crowed space trying to take a break from the festivities for a few minutes. By the time I had made several passes through the club and had a few drinks of my own it was time for me to head back to the hotel in order to get ready for another day at the convention which was set to be my interview day with several of the stars.

New Sensations Party: New Sensations and Shane's World throws one heck of a party.

I awoke after too little sleep and headed back to the convention floor to start getting to work on all the interviews I had put off until the last few days of the show. It was one hectic day trying to corral the likes of Jesse Jane, Devon, Jessica Darlin', Gia Jordan and Layla Jade just to name a few. I did manage to get a few shots of several new girls that I hadn't seen the previous days as well. For those of you unable to make it to the entire show then just let me say that Saturday is usually the day for you to go. This is (at least this year) the night of the AVN Awards Show and several stars come into town just for the day can be found walking around the convention floor checking up on old friends and making some new ones. I also spent a little bit of time at Pleasure Productions booth today due to them having the lovely Lezley Zen signing for them as well as their own contract stars Nikki Benz and Trinity. I will admit to not being as up on Pleasure's products as some other companies but if Trinity and Nikki are what they have to offer then I am going to have to correct that over site on my part. (It should be noted that Pleasure was also hosting the return of Chasey Lain to adult at the show as well. Unfortunately I apparently missed her all to brief appearance during this show).

Pleasure Productions: Nikki Benz, Trinity and Lezley Zen

Day Four: I actually got some sleep last night due to my bowing out of the AVN Awards show coverage. A fact which I regret now but it seemed like a good idea at the time. Most people are starting off slow today due to being out a little too late partying yet again. However, I did manage to finally stumble across the Platinum X booth which I had some how missed over the past few days. Platinum X was represented at the show by their co-founder Jewel De'Nyle, Ashley Long and Corina Taylor. Ashley just happened to also come across fellow porn hound, director and rocker Mark Stone who apparently was none too worse the wear after last nights bit of over indulgence. Corina, whose wasn't scheduled to sign at all today just happened to come by and spent the next few hours signing for fans until some more people came by to cover the booth for the last day of the show.

Platinum X Pictures: Ashley Long, Corina Taylor and Jewel De,Nyle

My last day at the show was spent finding out who had done well at last nights Awards show (2004 AVN Awards Winners) and congratulating those that I knew. I also managed to spend a few minutes with some of the Wicked Pictures women who had been swamped the last couple of days. Of course the fact that they had done so well at last nights awards show didn't exactly help matters but no one was complaining.

I spent the rest of the day finishing up the few things I had yet to complete and taking a few more pictures before I ended up calling it a day and heading back to the hotel for the long drive back home. As with previous shows this one was bigger than the last and the next one will probably be bigger still. Luckily the current location has plenty of room to expand. I know I will be there next year. How about you?