eXXXotica Los Angeles:
Dateline: July 7, 2010 | Roads To Moscow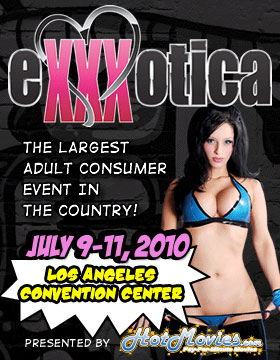 The Wicked Stars Of SPEED Roar Into L.A. This Weekend
LOS ANGELES, CA (JULY 7, 2010 ROADS TO MOSCOW) - As the company nears the completion of principal photography on its new erotic motorcycle thriller SPEED, Wicked Pictures is pleased to announce that the movie's leading ladies, contract superstars jessica drake, Kaylani Lei, Kirsten Price, Alektra Blue, and newly signed Wicked Girl Lupe Fuentes, will be appearing this Friday, Saturday, and Sunday, July 9th - 11th, at eXXXotica Los Angeles.
With the convention's other U.S. shows averaging 20,000 attendees a year, eXXXotica Los Angeles will continue the brand's tradition of showcasing the industry's biggest stars in a party-like atmosphere that "celebrates sexy." The show is certain to send temperatures skyrocketing across Southern California this weekend as the Wicked Girls grace the Los Angeles Convention Center, located at 1201 South Figueroa Street. Combining cutting edge Hollywood glamor with stylish West Coast swagger, jessica, Kaylani, Kirsten, Alektra, and Lupe will be meeting the public each day at the Fantasy Island booth, giving their fans three days of opportunities to collect autographs, pose for pictures with their favorite stars, and much more. Movies and other merchandise will be offered for sale, and savvy fans who buy DVDs will have the opportunity to get them autographed right at the booth.
When not bringing style and seduction to Fantasy Island, the Wicked Girls will maintain a formidable presence on the show's main stage, participating in everything from the interactive contest How Wicked Are You to informative panels like Everything You Wanted To Know About Porn (please see daily event schedule for times).
Saturday will find the Wicked Girls maintaining a formidable presence at the F.A.M.E. (Fans Of Adult Media and Entertainment) Awards. This popular show will be hosted by jessica and feature Kaylani, Kirsten, Alektra, and Lupe as presenters. Saturday evening will also see Ms. Lei and Ms. Fuentes hosting the exciting Ms. EXXXOTICA Competition. Beautiful women from all over Southern California will take part in the contest, which will be presented by HotMovies (www.HotMovies.com).
Stay tuned to eXXXotica's official website, www.eXXXoticaExpo.com, for updates on appearances and entertainment. Fans can also subscribe to the exclusive Twitter feed @exxxotica.
Whether you're a rocker, raver, lover or sinner, take a step into the turbocharged world of SPEED with jessica drake, Kaylani Lei, Kirsten Price, Alektra Blue, and Lupe Fuentes. They can't wait to see you at eXXXotica Los Angeles.
Show hours for fans are Friday, July 9th from 4 p.m. – 11 p.m., Saturday, July 10th from 1 p.m. – 11 p.m., and Sunday, July 11th from Noon – 7 p.m. Industry-Only (B2B) Hours are Friday, July 9th from 11 a.m. – 4 p.m. and Saturday, July 10th, 11 a.m. –1p.m. A complete signing schedule for the Wicked Girls is below.
Friday July 9th, 2010
5:00-8:00 pm Alektra Blue, jessica drake, Lupe Fuentes
8:00-11:00 pm Kaylani Lei, Kirsten Price
Saturday July 10th, 2010
1:00-3:00 jessica drake, Lupe Fuentes, Kaylani Lei
4:30-5:30 All Wicked Girls
5:30-7:30 Kirsten Price, Alektra Blue
Sunday July 11th, 2010
12:00-3:00 Kirsten Price, Kaylani Lei, Alektra Blue
3:00-6:00 Lupe Fuentes, jessica drake
To learn more visit Wicked.Com.
Wicked Pictures @
About Wicked Pictures
Founded March 1, 1993, acclaimed adult industry powerhouse Wicked Pictures (www.wickedpictures.com), creates quality adult features for women and couples.
Wicked Pictures' elite team of contract talent includes actor-writer-director Brad Armstrong, writer-directors Jonathan Morgan and Michael Raven, writer-director-star Stormy Daniels, actor-director Randy Spears, videographer/director Francois Clousot, and such acclaimed actresses as jessica drake, Kaylani Lei, Kirsten Price, Alektra Blue and Lupe Fuentes.
AVN's coveted acting awards have been won by Wicked Girls for eight consecutive years. It's the longest record of its kind to be held by a single company in adult video history.
2009 - jessica drake - Fallen
2007 - jessica drake for Manhunters
2006 - Stormy Daniels for The Camp Cuddly Pines Power Tool Massacre
2005 - jessica drake for Fluff & Fold
2004 - Julia Ann for Beautiful
2003 - Devinn Lane for Breathless
2002 - Sydnee Steele for Euphoria
2001 - Serenity for M Caught in the Act
2000 - Serenity for Double Feature
For Wicked Pictures Domestic Sales Information, Please Contact:
Bonnie Kail
Email: bonnie@wickedpictures.com
For Wicked Pictures International Sales Information, Please Contact:
Steven Vlottes
Email: MrVlottes@wickedpictures.com
For press and publicity needs, please contact:
Hethalein Mares
Email: heth@wickedpictures.com

ROADS TO MOSCOW | LOS ANGELES CA | DanielRoadsToMoscow@gmail.com
roadstomoscow.tumblr.com | www.twitter.com/roadstomoscow
"The World's Most Flexible PR Label"