Promo Shoot 2009 - Wicked Pictures

It is the first of October and I find myself in an old warehouse in Downtown LA that has absolutely no ventilation what so ever. Normally not that big an issue but of course this is one of the few weeks when it has gotten to 100°F. To make matters worse (at least for the director) this is not your ordinary set. This is the set of Wicked Pictures 2009 Promotion Reel shoot with an added bonus of an all contract-girl sex scene later this evening so the only performers on the set are Wicked's contract stars.
As I walk up the stairs they are shooting video for Wicked's upcoming web site re-design and I instantly notice something is not right. I only count five of the Wicked's six contract girls on set. Stormy Daniels is not present in the group shot they are currently doing. Heth (Wicked's Mistress of Public Relations) later informs me that the lovely Ms. Daniels is sick and will have to do her stuff at a later date.
My mistake was immediately pointed out to me as I walked onto the set and I hear Brad Armstrong say "Someone is going to be in trouble"
He is looking straight at me so my first thought is that I somehow walked into his shot but I am a good 20 feet from the set so that can't be it. Then I notice he and all five of the girls are looking at the 1 bouquet of roses in my hand. Yep, this could get ugly.
For those people who think contract girls have it easy they should be here right now. Pictures this...five women standing or sitting shoulder to shoulder in 100°F plus heat with no ventilation under studio lighting having to say the exact same line individually over and over again. (They are shooting the entrance script to become a member to the Wicked web site.) It takes the better part of an hour for the girls to completely get through what will be, in the end, a 10 second part of the web site.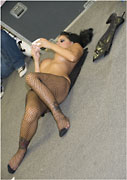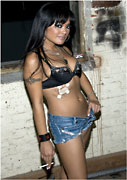 After that it is time for everyone to take a short lunch break (at 6pm) and then head on into wardrobe and make-up. This is the girls only real down time for the day so I tend to keep my distance but I do tease Mikayla about looking all sexy texting on her cell phone.
I also find out why Kaylani is sporting a rather large bandage on her ribs.
It seems that she was on a part of the set the other day with a low chandelier which they wanted swinging. She gave it a push and then went to pose for the camera, failing to notice it was coming right back at her. Apparently the bulbs in those things get rather hot and she has the burn mark to prove it.
Unfortunately I do not get a chance to talk to Kirsten about her return to Wicked but we do talk about some plans she has for the near future which may or may not happen before this years Adult Entertainment Expo. More on that some other time.
By the time everyone's wardrobe and make-up is done it is past 9pm and they are just now rolling into shooting the intro to the sex scene. Before long they are ready to start shooting the sex and the girls are anxious to get this moving along. So anxious in fact that Alektra and jessica get yelled at for something that you would think you would never hear on a porn set and that is taking your clothes off...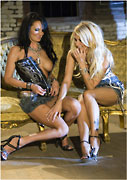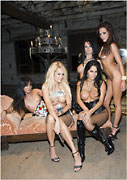 Once Brad gets Alektra back in her clothes they are ready to start shooting. The pairings and solo's vary but in the end I am fairly certain every one of the girls got to be with every other one of them with Kirsten doing the anal honors and jessica doing a little D.P. action for the group. By the time all is said and done the girls are all hot and sweaty (for a good reason this time) and it is 2am. All the girls want to do is go home (some of them have 9am call times this morning right back here) but I make them stay for a few more group shots just to document most of the Wicked girls together and naked on one occasion.
The movie this scene will appear in has yet to be determined but it will be release in 2009. I for one plan to keep my eye out for it. It is not often you get all of these beautiful women together in one location.