The Portrait (Wicked Pictures)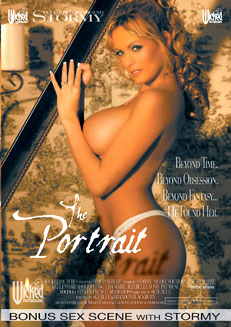 Cast: Stormy Daniels, Pat Myne, Ashley Long, Nicole Sheridan, Voodoo, Lisa Marie, Jezebelle Bond, Kelle Marie
Director: Skye Blue
Written by: Skye Blue and Brandon Blackburn
Release Date: July 21, 2004 (simultaneous VHS/DVD Release)
This is the story of "Burl" (Pat Myne). A simple caretaker of an art warehouse who enters the fantasy world of "Simone" (Stormy Daniels) a victorian era woman whose portrait he has become infatuated with.

I arrive for the first day of shooting for "Portrait". Stormy's first Wicked Pictures production of 2004. Which also happens to be Skye Blue's Wicked Pictures directorial debut. I am running a little late but am just in time for them to be taking a break in shooting Ashley Long's sex scene. I am not familiar with the male talent in this scene but I am with Ashley. Ashley is playing an art buyer who is trying to convince the owner of a painting to sell it to her. Three guesses how she is going to do that.
The first thing I notice is that Skye is very particular about the shots she is after. Where some directors will shoot a scene and then try it several different ways to see which one they like Skye will already know exactly what she is looking for and will tell her actors what they need to do for her to get the shot she wants.
After the sex is over they have to go back and shoot the dialogue sequence leading up to the sex. At which point I go up stairs to check on Stormy, Nicole Sheridan and Voodoo who are getting ready for the next sex scene.
While they are setting up for the second sex scene of the day the set photographer takes the time to shoot Nicole's pretty girl shots for the movie. This woman in truly amazing to watch but see for yourself.
The sex second scene of the day is a fantasy sequence in which Stormy sits and watches Voodoo and Nicole have sex. No matter how many times I have seen this married couple go at it I am always amazed at the quality of their performances. These two really enjoy their work.
After the scene the decision is made that it is getting late so they decide to shoot a dialogue scene while they are shooting the third and final sex scene of the day with Kelle Marie and Stormy. They are a little pressed for time so I decide to get out of their way so they can finish up work for the night.
As I arrive on set for the second day of shooting they are having Stormy strip down naked to run around and through the fountain outside. Now on a normal Southern California day this may not be a bad idea but today it is over cast and cool so Stormy is freezing her very lovely ass off. Though just to show she is equal to all sexes Skye later has Pat Myne strip down and join her as well.
I try to get Stormy to pose for some pictures in the fountain but no amount of chocolate will do it this time. Though for a 74 Barracuda she is game for that and more. Unfortunately that is a little out of my price range for a photo shoot.
Stormy is in rare form today playing up the "princess" role for a behind the scenes segment her and Mark Stone have in the works. Though before long they have to stop in order to shoot Stormy's first boy-girl scene with her husband (Pat Myne). Pat however is not used to shooting for a company like Wicked so..
Skye has to warn him - Nice, slow, romantic. NO CHOKING!
Pat - Next you will tell me I can't plug her nose.
Skye - That is right Manuel.
Even without Pat's normal sexual antics these two still turn in a scorcher of a sex scene.
After her scene I finally manage to sit down with AVN's reigning Best New Starlet to talk about what makes her tick and what she has planned for the coming year.