Lights, Camera, Sex @ Hustler San Diego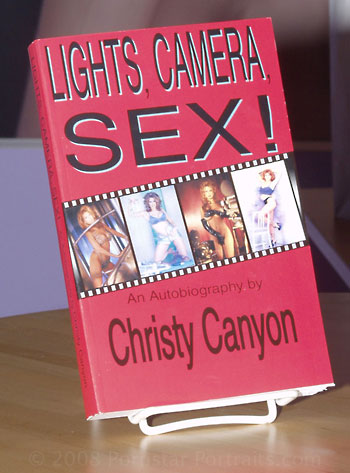 The 3rd floor of the San Diego Hustler store has been converted into a reading area to promote the release of Christy Canyon's autobiography entitled "Lights, Camera, Sex!"
Christy arrived a little after 8pm looking absolutely stunning.
The host for the evening was erotic fiction writer Stan Kent. He got things started by talking to Christy about her first sex scene ever, which just so happened to be with Ron Jeremy. She talked about how she was actually tricked by her manager into doing that first scene. He had failed to mention to her that the job he was sending her on was a video shoot and not a photo shoot. But she also said that she had no regrets because of her decision to go ahead with the job.
Stan and her also talked about how she had managed such longevity in the porn industry, sex at home after having sex on camera, dealing with her porn star past and why there are so few men who do adult films.
Throughout the signing Stan was giving away prizes in a rather unique manner. In order to win a prize you had to come up front and act out the opening set-up to a porn scene. The catch was you also had to come up with the set-up all on your own. This was some of the funniest adlibbing I have ever scene and Christy's fans had a blast with it as did she. Most of the contestants were male but the one female we had take the stage was pretty good, though very nervous. She did win a prize for the best "porn name" of the night with the moniker "Cum Guzzling Crenshaw" (she made that up all on her own). Unfortunately we failed to get Hustler San Diego PR rep Amanda to take the stage for a try at it, though we tried.
Stan then read an excerpt from his book "Lucretia" which tells the story of a woman who can experience the sex people have had by putting on the shoes they were wearing at the time.
After that the floor was turned over for a brief question and answer period with the fans before the autographing signing and picture taking closed out the evening.
This was my first adult book reading and I must say that I was unsure of how this was going to turn out but everybody had a really good time. The fans enjoyed the play acting and question and answer period which is not something they normally get to do at a regular bookstore signing. Hustler has once again come up with an innovative take on how things should be done.